Take a Hot Shot, and you could win 1 of 10 $1,000 Prizes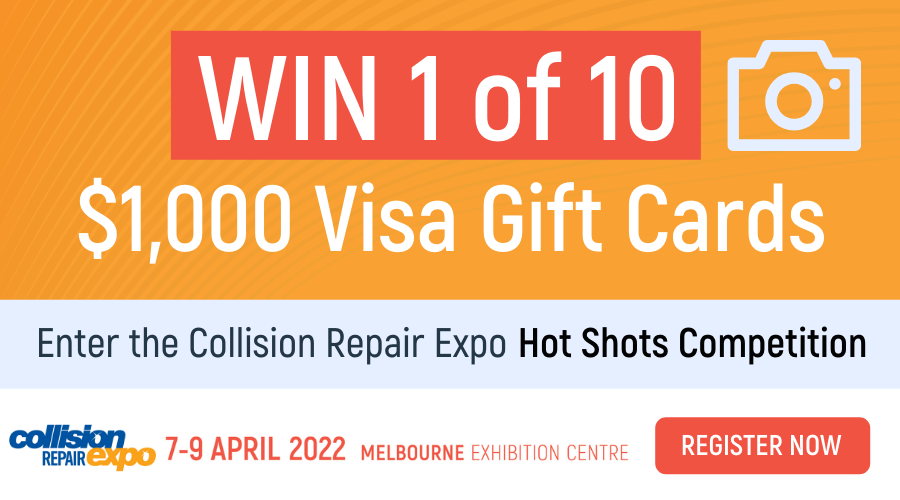 COMPETITION CLOSED. Congratulations to M.Monserrat from SA, K.Huelin from NSW, A.Smith from VIC and M.Williams from QLD who have each won a $1,000 Visa GIft Card.
If you registered for the Collision Repair Expo or Auto Aftermarket Expo by Monday 28th March, take a HOT SHOT during your Expo visit for a chance to win 1 of 10 $1,000 prizes – yes, there's 10 chances to win $1,000.
With so many features running at the Auto Aftermarket Expo & Collision Repair Expo, there will be lots of opportunities to capture and share amazing photos of your experience.
Imagine the possibilities: the perfect shot of a brand new product, focus in on the latest equipment, an epic picture of a huge stand, or a great selfie with mates at the Banquet, Breakfast or Seminars… We want to see Expo from your perspective. Past attendees tell us how great Expo is – the buzz, the networking, the huge stands, inspiring presenters, and unforgettable moments. Send us your HOT SHOT that captures the magic of Expo 2022 to win.
Entering is easy, here's how you do it:
Two Simple Steps for Your Chance to WIN 1 of 10 $1,000 Visa Gift Cards
1. Ensure you registered for Expo by Monday 28th March 2022
2. Attend the Australian Auto Aftermarket and Collision Repair Expo, then upload your best photo from the Expo 2022 by Sunday 10th April via the form in the link below.
Have the opportunity to win 1 of 10 $1,000 Visa Gift Cards by entering the Auto Aftermarket and Collision Repair Expo photo upload competition with AAAA (COMPETITION) Competition promoted by Australian Automotive Aftermarket Association (AAAA) ABN 23 002 271 454 of 7-8 Bastow Place, Mulgrave, Victoria 3170, (03) 9545 3333, info@aaaa.com.au (Promoter). Only individuals over 18 years may enter the Competition.  Only one entry per person.  Only individuals who have registered to Auto Aftermarket Expo or Collision Repair Expo prior to 11.59PM Monday 28 March will be included in the Competition judging. The Competition commences 9.00 a.m. AEDT 15/03/2022 and closes 11.59 p.m. AEST 10/04/2022. The prize per winner is 1 of 10 $1,000 Visa Gift Cards (Prize). Entry details and entry mechanism is located at www.autoaftermarketexpo.com.au/hot-shots-comp/. Prize judged on creativity by 12/04/2022, winner contacted within 48 hours by email and/or telephone and announced by 14/04/2022 at www.autoaftermarketexpo.com.au and/or www.collisionrepairexpo.com.au. If Prize unclaimed at 11.59 p.m. AEST 12/05/2022, the Promoter will decide whether to select a substitute winner, which will be announced by 16/05/2022. Full terms and conditions available at https://autoaftermarketexpo.com.au/wp-content/uploads/2022/03/Terms-and-Conditions-Expo-1K-GOS-Competition.pdf.
Click here for the full Terms and Conditions.